The summer is officially back in all its former glory and what better way to celebrate than with one of our VIP Packages.
The perks start straight away, with a zip past the hungry queues thanks to fast-track entry, before jumping into one of our comfy VIP Lounge seats to soak up the sun's rays whilst refining your menu choices and eyeing up the complimentary snack bar courtesy of our artisan producers.
Now you've got an appetite, roam the festival filling up on delicious dishes paired with your chilled glass of champagne.
With your hunger sufficiently satiated and the beats of the DJ calling, head back to the VIP Lounge to challenge your mates/loved ones/willing strangers to a garden game or two, after a spin in the Secret Garden (more of which will be revealed soon, stay tuned).
Finally, before heading out into the city, day perfected, swing by our Artisan Producer markets to pick up some tasty swag and gain a cheeky 10% discount by flashing your VIP lanyard. Your stomach will thank you, we promise.
Our VIP Packages include:
Fast track entry to the festival

Access to the VIP Lounge and private bar

A glass of champagne

Either two Signature dishes (2 dish bundle), or two Signature and one Exclusive dish (3 dish bundle)

Complimentary cloakroom

Access to free VIP masterclasses

Entertainment, games and complimentary snack bar

10% discount available at select Artisan Producers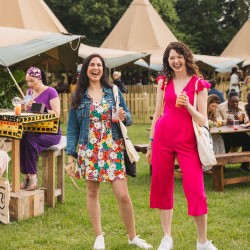 Book tickets
To access our VIP Lounge, you need to snag yourself a VIP Package. Hit the link below to secure your spot.
Tickets are limited and sessions sell out quickly, so lock yours in soon to avoid disappointment.