Looking to discover that hidden gem in your neighbourhood? We caught up with Taste chefs to get the lowdown on theirs…
Chosen by Sandia Chang of Bubbledogs
"They specialise in Chinese cuisine from the Xi'an province. The place is intimate, the service is sweet and the food is all handmade, from their different kind of noodles to their Chinese burger buns. It is also BYOB so I can pull out some special bottles from our cellar and have amazing food to pair with."
Not so long ago, the British relationship with Chinese food was confined to numbered menus and special fried rice. Thankfully, over the last few years, we've finally embraced the nuances of its many regional cuisines and discovered a brave new world of Chinese cooking.
Xi'an Impression is an unassuming little restaurant tucked away beside the Emirates Stadium in Highbury, specialising in dishes from the Xi'an province. Xi'an has a complex and fascinating food history and is considered to have one of the oldest culinary traditions. Once marking the starting point of the Silk Road, and heavily influenced by its Muslim Quarter, typical Xi'an dishes include pot sticker dumplings, rich noodle soups and squishy flatbreads.
These baked flatbreads are moulded into 'Chinese burgers' at Xi'an Impression, a classic street food dish that features shredded, braised pork or beef laced with cumin. It's mind blowing that these haven't spread like wildfire across the street food vans of London yet. There's still time. However, the main event is reserved for the hand pulled noodles, especially the liangpi (cold) versions. Thick, chewy and undoubtedly sloppy, the noodles are drizzled with chilli oil and vinegar, topped with garlic and served with tart crunchy cucumber and bean sprouts for a near perfect starter. Moving onto the main courses, the noodles become thinner and the broth richer. Another must-try is the pao ma, a deeply satisfying dish of soaked bread, beef broth fennel seed and glass noodles.
We'll return to Sandia for the final word of advice: swing by Bubbledogs, treat yourself a fancy bottle and make haste to Xi'an Impression. With any luck, the Gunners will pull off a winner too and it'll be a rapturous night all round.
Where to find it: 117 Benwell Road, Highbury, N7 7BW
Chosen by Hus Vedat of Yosma
"I can't pass by without smashing a Dead Hippie."
MeatLiquor brought swagger to London's burger game when it stormed into our consciousness in 2011 via a series of desperately popular pop ups. 'Artisan' or 'gourmet' this wasn't; instead the Meat Liquor crew, headed up by Yianni Papoutsis and Scott Collins, revelled in the dirtiest, meatiest, most face-smearingly messy burger creations in town, an unapologetic homage to the gloriously grubby nature of great meat.
Since MeatLiquor opened its first permanent doors in a vaguely dystopian spot just off Oxford Street, the group have spawned 12 sites across the capital and beyond, which has thankfully put paid to the endless queues of its formative years. Whilst each new outpost has its own personality and unique, graffiti-strewn walls, they all feature a reassuringly high volume of crowd-favourite menu items, including the infamous Dead Hippie burger (complete with trademarked sauce). A deliciously artery-thickening combination of 2 Frenchie's mustard-fried beef patties, that TM'd sauce, minced onions, melted cheese and pickles; order alongside the chilli cheese fries and buffalo wings with blue cheese dip for a winning combination and certified hangover cure.
Before we lose you to your burger fantasies, one more note: do not skip over the cocktails. Their oft-ridiculous names (ahem, Donkey crunch) belie their solid craftsmanship, providing the much needed sharp, sour counter-notes to the rich, grease-laden meat. Go classic and plump for a New Cross Negroni, or go bold and tackle a House Grog, a blend of different rums so potent they limit you to two per person.
Where to find it: 74 Welbeck Street, Marylebone, W1G 0BA, various further locations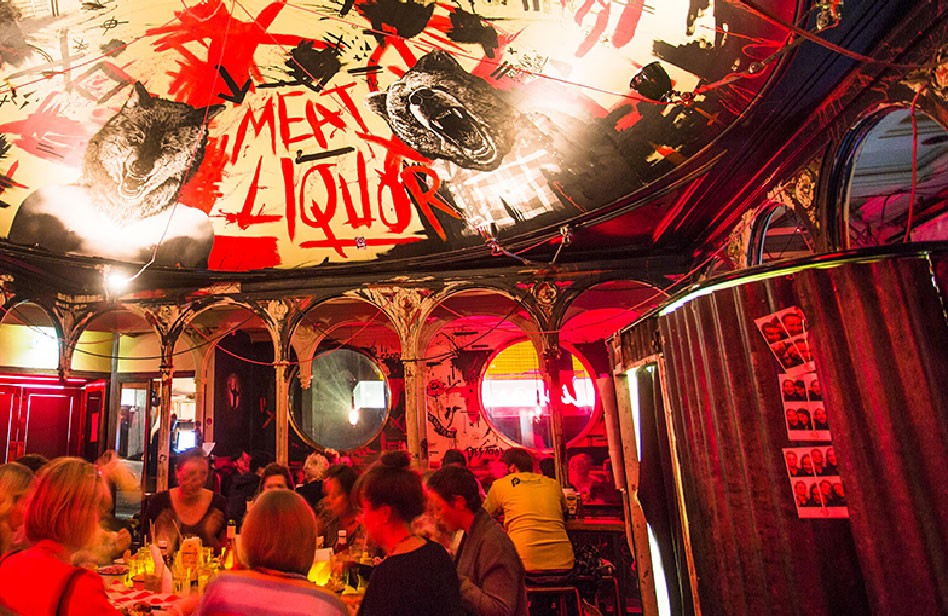 Chosen by Mike Morrans of Senor Ceviche
"It's a great little spot, offering food of a very high standard for a reasonable price with a really cool vibe."
Claphamites, we hope you realise how great you have it: you have not one but three outposts of The Dairy group to claim as your local haunt. All restaurants (plus an extra in Bethnal Green) serve up show-stopping seasonal British small plates in charmingly rustic, down-to-earth venues, each with their own definably different characteristics. All are brilliant.
The brainchild (children?) of Chef Robin Gill and his wife Sarah, The Dairy is his original and most esteemed creation. At the centre of his cooking ethos are the principles of the farm to table movement and a simple back-to-basics approach. Butter is churned, meat cured and fish smoked all in-house, whilst herbs and vegetables are grown on the rooftop garden, next door to the beehives producing delicious honey. They all appear on the menus divided into garden, sea and land, each section a glorious celebration of the produce's roots.
Individual dishes are meticulously crafted, with familiar flavour combinations dancing alongside unusual flourishes and overlooked traditional British ingredients.Although the menu changes often, current highlights include Applewood smoked eel with fresh peas, purslane and rooftop mint, the rich smokiness of the fish beautifully offset by the crunchy peas and subtle citrus zip of the purslane. Added flourishes throughout the experience (the homemade bread is heavenly), elevate The Dairy far above its claimed humble station.
Despite the lofty heights of the cooking and the plethora of accolades, the atmosphere is far from stuffy. Instead, the unswervingly affable service, demure plating and general good natured-ness of the outfit make The Dairy the perfect neighbourhood spot.
Where to find it: 15 The Pavement, Clapham Old Town, SW4 0HY
Chosen by Cyrus Todiwala of Cafe Spice Namaste
"It's homely, we are totally looked after. We know the owner and the food is great."
These days it's easy to forget that the area around Broadway Market is anything other than hordes of hipster-seeking tourists, on the hunt for overpriced coffee and a spot in the bbq section of London Fields. Thankfully, it's far from the reality, with plenty of local stalwarts like Green Papaya still cracking out a formidable trade. Phew.
Located a couple of streets over from the main market drag, Green Papaya is a laid-back and homely affair, serving up delicious Vietnamese cooking with quiet prowess. Despite the traditional Vietnamese-in-London setting, the menu does not look to please the one-size-fits-all approach often deployed in similar joints. Instead, dishes are presented with distinctive, modern re-workings
A particular stand-out is the cumin spiced Welsh lamb or Irish beef, served with an intense smack of dried chillies and spring onions. Another delight is the American soft shell crab, its sweetness offset by subtle flecks of chilli and crispy shallots, or the namesake green papaya salad with tangy jerky beef. If you didn't fancy schlepping all the way up to Highbury for Xi'an Impression, you're in luck here too: an entire section of the menu is dedicated to Xi'anese noodles, including the iconic liangpi noodles. It can't quite match the same level as Xi'an Impression's hand-pulled versions, but it does a decent job trying.
Coupled with the delightfully welcoming service and chilled out atmosphere, Green Papaya has perfect weekender lunch with friends vibes. So next time you find yourself hot and flustered among the heaving crowds of Broadway Market, duck out to Mare Street for Vietnamese instead.
Where to find it: 191 Mare Street, E8 3QE