1. Get your groove on and boogie down
The vibes are immaculate. Cut some shapes with the hottest sounds from a whole host of DJs across the festival or head down to The Fire Pit with Food Network for DJ BBQ's sick beats. Shimmy on down with renditions of your favourite pop songs from The Piano Man over at the House of Taste or speed things up with Holy Moly's Mariachi band.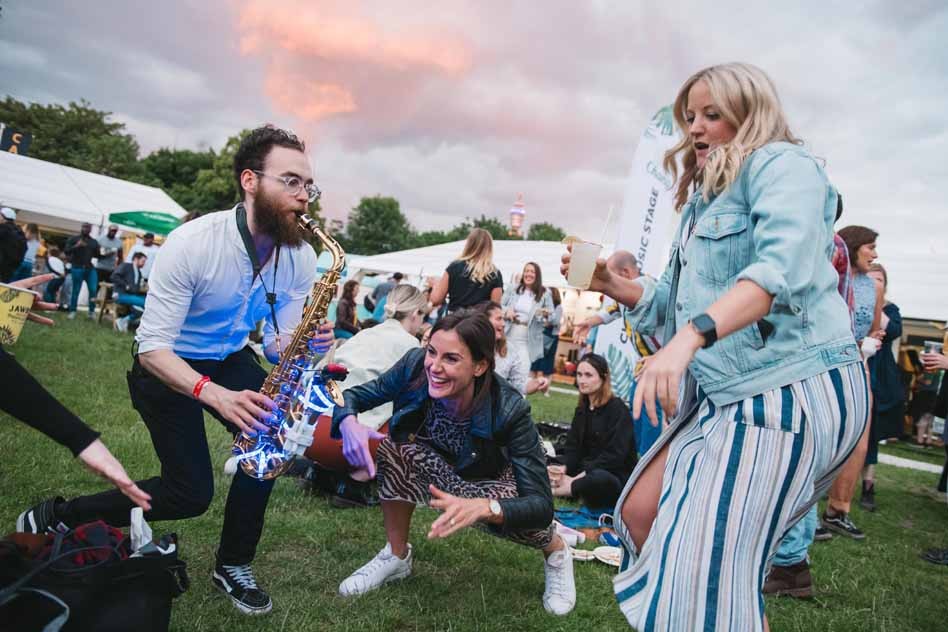 2. Battle of the banging foods
Everyone loves a battle. And a food battle? Even better. Once you start feasting, it's time to stage your own face off. Put the dishes to the test and treat yo'self with some delicious food. Who would win out of Sartoria or Cin Cin's truffle dishes? Or How about the delicious desserts? Or prawns vs lobster? Game on.
3. Get your experimental juices flowing
The Juice Lab is brand new for 2022 and is here to satisfy your wild five a day needs. Hosted by The Kitchen Theory, swing by to take part in a smoothie masterclass to test your tastebuds and grab a glass of liquid goodness. 
Next up, experiment to find your favourite flavour of Tasty Mates, does it really represent who you are in the friendship group? Finally, it's time to cool off a day of fun, so swing by The Felix Project for a handmade ice lolly made from surplus ingredients to help deliver good food to good causes.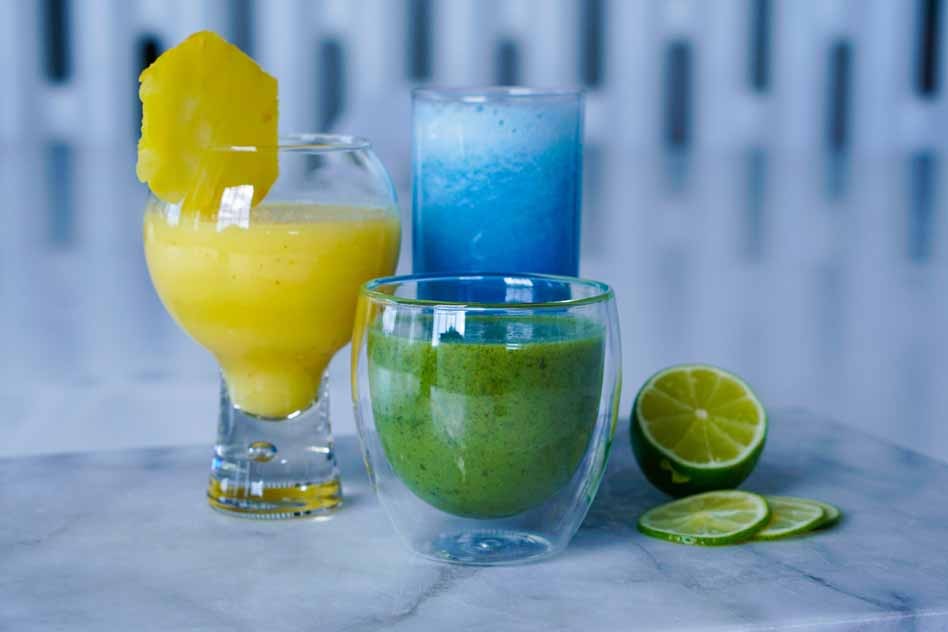 4. Hang out and have a bit of fun
Hit a bullseye with Freestar's human dartboard (with one of their Belgian craft beers in hand of course) or kick back for a bit of self-care with a cocktail and Miami-mani from Miami Cocktail Co. It's time to cool off after all that fun, swing by The Felix Project for an ice lolly made from surplus ingredients. Finish up in the House of Taste Playroom with photo-ops that will be sure to get you on the fyp and make your feed pop.
5. Don't be a lady, be a legend
We're talking girl power. The Fire Pit with Food Network is championing female chefs to complete the line-up. Joining us are veg-loving chef, Kathy Slack, and British Afghan fusion chef, Mursal Saiq. Celebrate with a glass of something delicious from On Cloud Wine who import from female trailblazers in the South African wine industry.
6. Get your hands dirty and learn something new
Eating good food is one thing, but knowing how to cook it? That's the dream. Good food whenever you want it.⁠ The Diners Club Cook School line-up includes a whole host of chefs and has a specific focus on sustainability, so you'll be sure to leave brimming with ideas on how to create delicious dishes that are more sustainable. 
When you've had your fill, head on over to ALL – Accor Live Limitless Meet the Maker to get some facetime with the creator while you get to sample their wonderful creation. From gin to whisky and afternoon tea to cocktails, ALL will show you the finest experiences from their chefs and mixologists.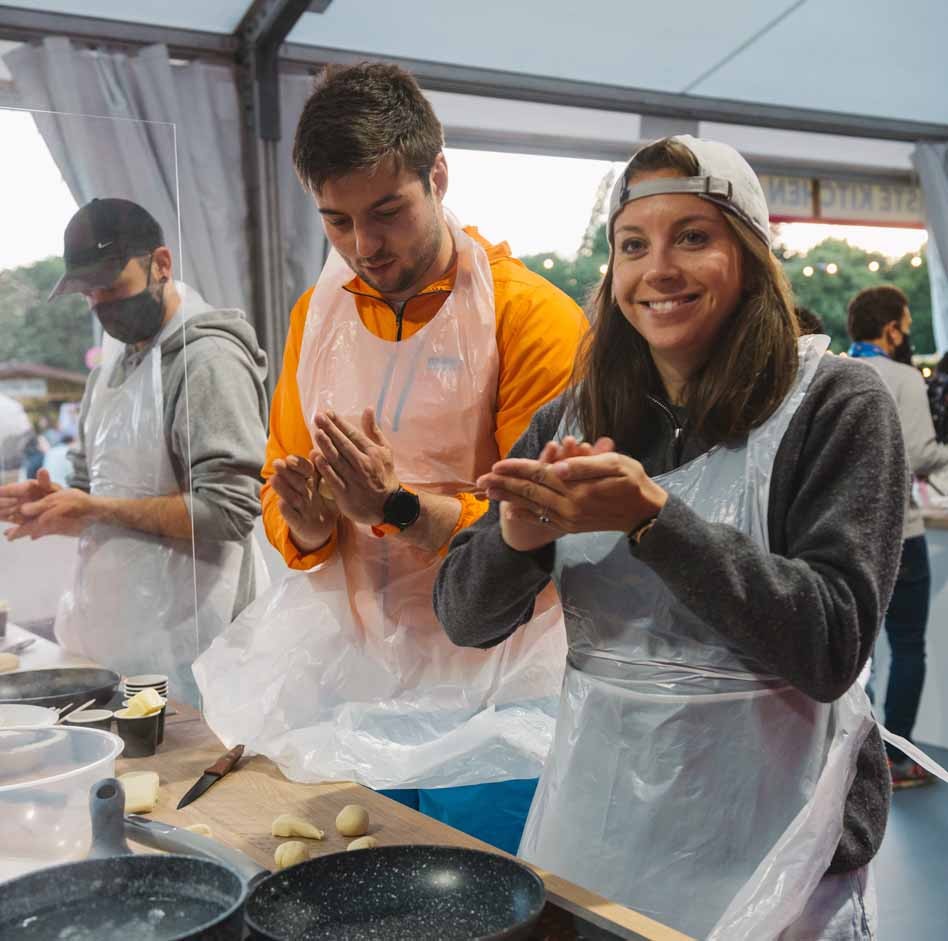 7. Time to tee off
Everyone loves a game of crazy golf. Here at Taste we're no different. But we don't do things by halves. So we've got the ultimate mash-up. Crazy golf *and* nibbles *and* drinks. That's right. The finest Artisan Producer in all the greens are bringing you samplings of their delicacies at every hole. Book now so you don't miss out.
8. Improve your chef skills in style
A session at The Kallø Skillery is your chance to become a pro with the helping hand of Kallø's easy squeezy stock pastes. Roll your way to stardom with pasta making from Pasta Evangelists and Norma, or try your hand at dim sum making workshops from Dumplings' Legend. Keep improving at home with your complimentary Kallø stock paste.
9. Lay eyes on taste royalty
Legends of Taste walk amongst us. You might be lucky enough to lay eyes on the likes of Francesco Mazzei, Theo Randall, Vivek Singh or Pascal Aussignac. Risk getting stars in your eyes as you learn from Michelin-starred wonders Jason Atherton, Ollie Dabbous or Tom Brown, or turn those stars an eco-friendly shade of green with Chantelle Nicholson.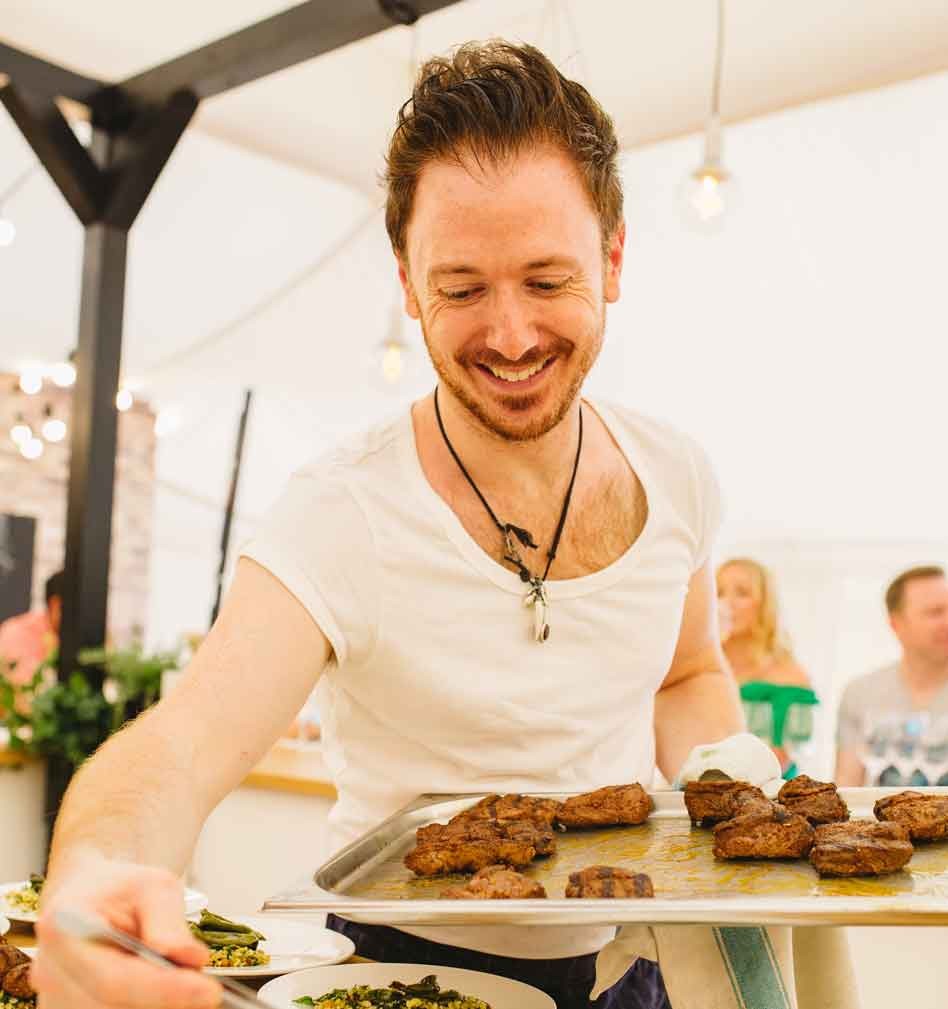 10. Try some weird and wonderful things
Whatever category it fits into, we love it. Did you know SAVED do snacks infused with cricket protein? Now you do. Or that we've moved into the world of plant-based prawn crackers? Native Snacks are letting you taste them over at the Pr*wnHub. Or that milk can come from a potato? DUG is a plant-based milk made from, you guessed it, potato. Or that you can do a bump of caviar? Exmoor Caviar invite you to lick a bump of caviar off your fist.
Hunt for your own weird and wonderful creations by sampling your way around the Artisan Producer stands, where this year we'll have more variety than ever. Make sure to share your favourites over on Instagram and tag us @tasteoflondon.
11. We've brought Turkiye to you 
We all know you've been dreaming of jetting off on that long awaited sunny holiday. And we know Turkiye is top of the list. So we've brought Turkiye to Taste just for you. At the GoTürkiye stand you can see fantastic demonstrations from a selection of Turkish chefs, including chef Pinar İshakoğlu.
12. Personalise your bubbly experience
All the indulgent feasting you've got planned will be thirsty work, so toast the beginning of summer and snap away in the photobooth at the Champagne Laurent-Perrier Club House. Plus enter our competition on Instagram to win your very own Champagne Laurent-Perrier personalised tin, so your festival is about to get a lot bubblier.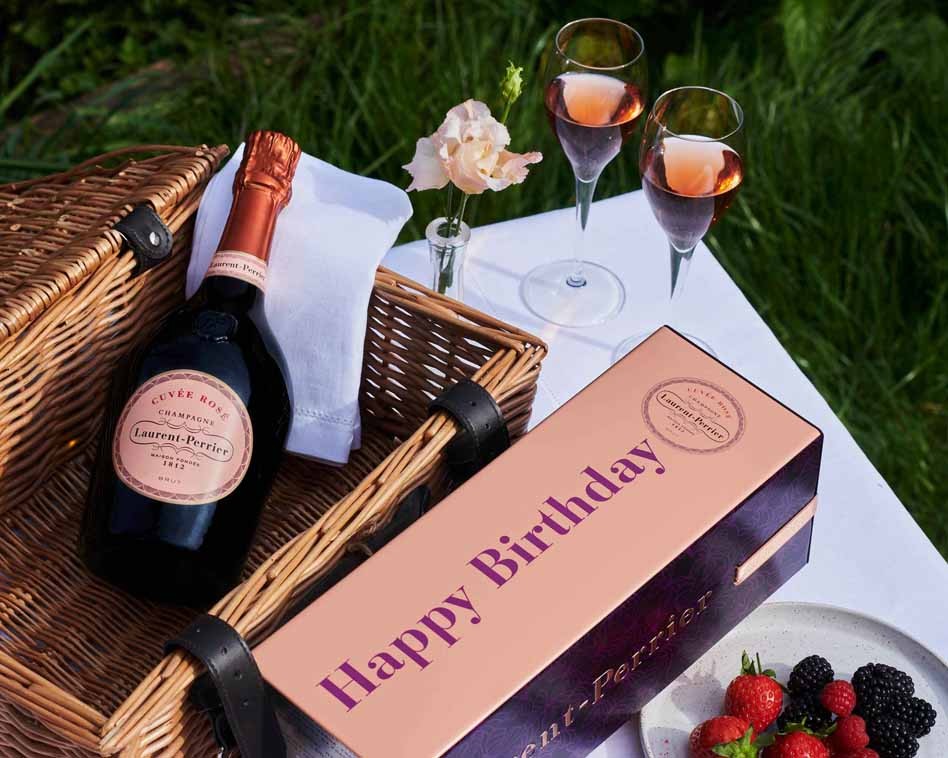 13. Dare to date better
Feeling daring? Inner Circle is all about getting singles on actual dates; so, brace yourself for some in-person, non-awkward speed dating. If you fancy yourself a foodie – and fancy yourself a foodie – here's your chance to experience an Inner Circle party. Bring along your grub and stop by the app's lounge space to meet like-minded singles. Flirting over fajitas? Matching over masala chai? Yes please.
14. Shake your way to a delicious drink
Become the mixologist you've always dreamed of being. We know you wish you could ask the person shaking your cocktail if you can have a go. But now you don't even need to ask. Because there are loads of bars waiting to let you take the reins. At The Schweppes Bar you can put the fizz back into your life with a tantalising tipple. At the De'Longhi Bar you can give yourself the mid-afternoon pick-me-up you need with an espresso martini. And at TAILS COCKTAILS you can explore your very own home from home and shake your own delicious drink. Just don't ask the bartenders to comment on your shake face…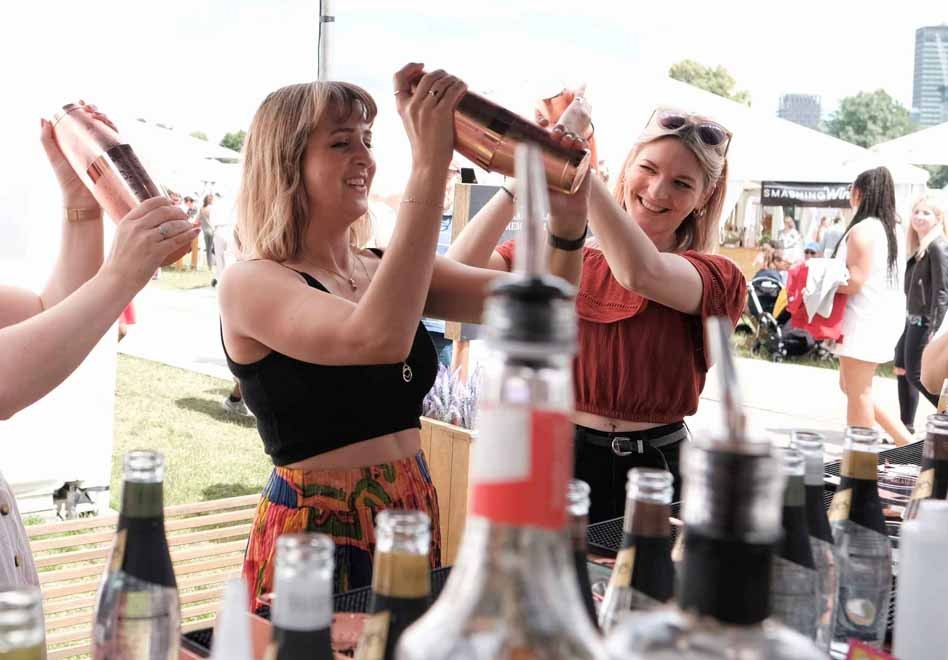 15. Things are heating up at The Fire Pit with Food Network
The Fire Pit with Food Network is the flame-fuelled centrepiece of Taste of London, a roaring riot of theatrics and feasting. Rock up throughout the festival to catch some of the city's coolest chefs take the reins, showcasing their signature dishes roasted over the embers. 
Head down to see Jay Morjaria and Raymond Steplin on Thursday and Dan Pelles of the Coal Office cooking up a storm on Saturday. We'll also be joined by some of your returning favourites including Joseph Cumberbatch on Sunday, Karan Gokani from Hoppers on Thursday and William Chilila on opening night.
16. Try something new
The best taste sensations happen when you step outside of your comfort zone. Or something like that. Right? Try new foods and discover what tickles your taste buds. We'll happily take credit for your new love story. We've got over 130 dishes from 36 different restaurants. We challenge you to take on the menu and find a new desert island dish.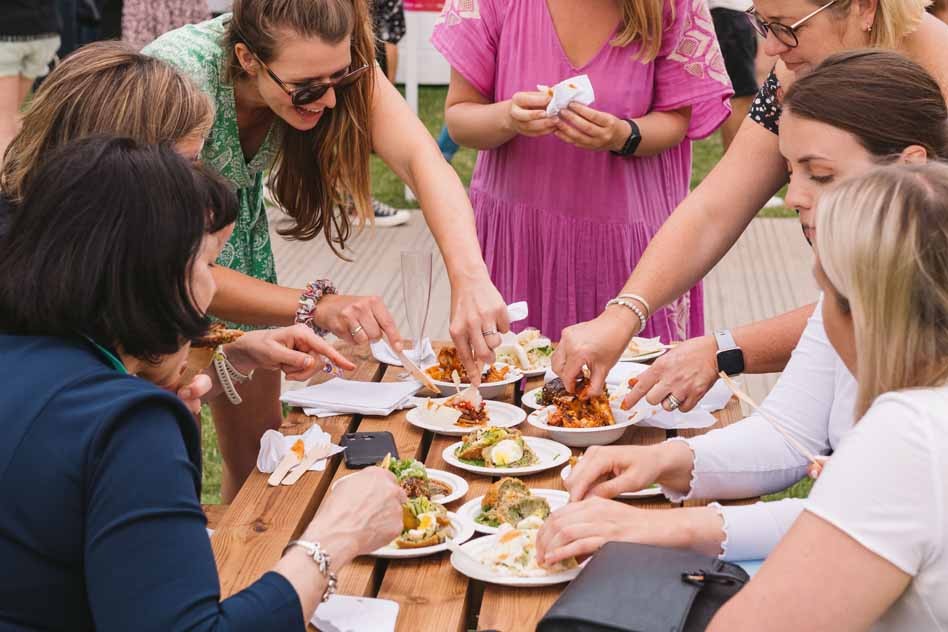 17. They see us rollin', they hatin' 
A cool stand? You've got our attention. A cool stand on wheels? Now we're talking. Holy Moly are rolling into Taste with their Tuk Tuk which will be serving up their delicious range of dips. Or if you fancy some liquid deliciousness, Franc, the 1967 Citroen van will be pouring them out from The Maverick Bar Company. And the icing on the proverbial cake? Kallø are bringing out the big guns with a pink tractor for you to sample their brand new Veggie Cakes Minis. 
18. Cheers to 18 years of Taste
Whatever glass you've got in your hand, raise it. We're saying a toast to Taste. Taste's been running for 18 delicious years and we're so grateful for all of you who have feasted with us over the years. Drink in hand and you're ready. Cheers!